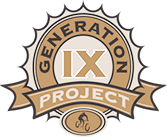 The adventure of a lifetime from the Coalition for Hemophilia B
Medexus Pharma is proud to be the sole sponsor of the popular Coalition for Hemophilia B Generation IX Project, a national program designed specifically for—and by—those living with hemophilia B. Led by Pat "Big Dog" Torrey and the team at GutMonkey, the Generation IX Project supports the hemophilia B community with a series of mentorship, advocacy, and leadership programs that challenge, educate, motivate, and empower participants to make positive changes in their lives and in their communities.
Applications for the next Generation IX Project Program will open soon. Sign Up to stay informed about future Generation IX projects. And be sure to follow us at IX Nation on Facebook or connect with The Coalition for Hemophilia B for the latest program updates.
Generation IX Project—Video Vault
Medexus B More™ Scholarship
The 2023/2024 B More Scholarship application period is now closed. Sign Up to stay informed about future scholarship opportunities.

This program just for people with hemophilia B helps deliver a brighter future.
You're doing remarkable things, and there are many more you want to do. Whatever they are, the Medexus B More™ Scholarship is designed to help.
Recipients receive a scholarship to use for any type of post-high school education
Scholarships cover undergraduate, graduate, doctoral, trade schools, and certifications in the United States. Enrollment can be part time or full time
Scholarships are awarded based on a number of criteria
There is no age limit
Sign up to stay informed about the B More Scholarship or any of the Medexus community programs.
Medexus' resource programs are available to all eligible patients regardless of which factor IX product you use.
Practical and engaging speaker programs about being active, in your personal wellness and in your community.

Our B Active speaker sessions help enrich peoples' lives with practical, informative, and engaging activities that help you "B Active" on a regular basis.
Speak with your Hemophilia Territory Manager about attending an interactive talk in your area.
Brave Is In Our Blood
Join a history of heroes protecting the future of people with hemophilia
Gain a unique perspective on a defining chapter of the hemophilia community's history during the 70s and 80s in this rousing retelling that draws inspiration from some of history's most famous warriors―the Spartans. With relatable anecdotes and real-world advice for how you can continue the call, this is one story that speaks to all generations.
FACTOR IN the Family
Women and girls can and do have hemophilia
Women with hemophilia B don't just face unique bleeding challenges—getting the right diagnosis and treatment can be an uphill battle. This program will help all community members advocate for girls and women who have a bleeding disorder, understand the obstacles the "carrier" label may bring, and discover why factor level alone may not dictate a woman's need for treatment.
Facing the Pain of Hemophilia
Dealing with chronic pain and medication abuse
As someone with hemophilia, you may experience physical pain every day. This program helps you understand the full impact that pain has on you and your family. You'll discover useful tips to recognize potential pain medication abuse. And you'll get details on complementary therapies that might help you better deal with pain.
Using Fitness to Fight Back
Discover how physical fitness may help create a powerful defense against injury for people with hemophilia. Learn how to safely utilize fitness components like flexibility, core stability, strength training, and body movements to help prepare your body for a healthy, active lifestyle.
Rebuilding the Body With Diet
Understand the components of food to help balance not only a plate, but an entire day's nutrition. See how specific patterns in diet may impact areas affected by hemophilia. A healthy diet can be fun and affordable, and help to build a strong, resilient body.
How Not to Marry Your Mother
If you have hemophilia, is factor all it takes to cut the apron strings? Come and gauge your independence readiness. This interactive presentation will provide you with resources and self-management tools to help you with self-sufficiency and increased confidence.
Medexus' resource programs are available to all eligible patients regardless of which factor IX product you use.
Facebook is a registered trademark of Facebook, Inc.
Reference: 1. Data on file. Chicago, IL, Medexus Pharma, Inc.