ZERO spontaneous bleeds.1* More spontaneous possibilities.
Ever wonder what life would be like with ZERO spontaneous bleeds?
Explore the possibilities with IXINITY®.
Use IXINITY as prophylaxis for bleed protection before you need it,1 and discover the confidence that comes from proven bleed protection.

*Previously treated patients (PTPs) receiving routine prophylactic treatment of 40 IU/kg to 70 IU/kg of IXINITY twice weekly demonstrated a median (IQR) annualized spontaneous bleeding rate (AsBR) of 0, and a median total annualized bleeding rate (ABR) of 1.52. IQR (range: 0-1.22) (N=61)1
IXINITY resolves most bleeds with 1 infusion.
In a clinical trial1:
71% of bleeds were resolved with 1 infusion
Patients rated bleed control as "excellent" or "good" in 84% of all bleeds treated1†
†A total of 508 bleeding episodes were treated with IXINITY.1
IXINITY provides predictable bleed control for your active, unpredictable life.
IXINITY® has an average incremental recovery of 98%.1 Higher recovery may allow lower doses.
Incremental Recovery: The increase in plasma concentration per IU/kg of factor administered.2 Plasma-derived factor products have an incremental recovery close to 1 or 100%.2,3
Selected Important Safety Information
Your body may form inhibitors to IXINITY. An inhibitor is part of the body's defense system. If you develop inhibitors, it may prevent IXINITY from working properly. Consult with your healthcare provider to make sure you are carefully monitored with blood tests for development of inhibitors to IXINITY.
How recovery impacts infusion dose.§
Hypothetical example: Keith weighs 155 lb (about 70 kg), and is looking for a 50% factor IX increase (correction).

Dose (IU)=body weight x desired factor IX increase x (1/recovery)1
Ask your doctor to do an individual PK test to determine your recovery with IXINITY.
‡ IXINITY recovery is an average based on lab tests of patients in the clinical study.1 Because your actual recovery may be different, your dose may be different, too. Speak with your healthcare professional about the exact dose for you.
§Description is not of an actual patient. Individual dose will vary. Patient with a baseline factor level of <1%.
24-hour half-life for peak factor IX levels when you need them.
The average terminal half-life of IXINITY® is 24 hours.1
Individual half-life may vary.
Peak factor level: Point when the highest concentration of factor in the blood is reached.4 Matching peak factor level timing with peak activity level may help support an active lifestyle.
Terminal half-life: Time it takes for the drug's activity to decrease by half after factor has been distributed throughout the body. The longer the terminal half-life, the longer factor is active in your system.4
50% of peak factor level remains after full day.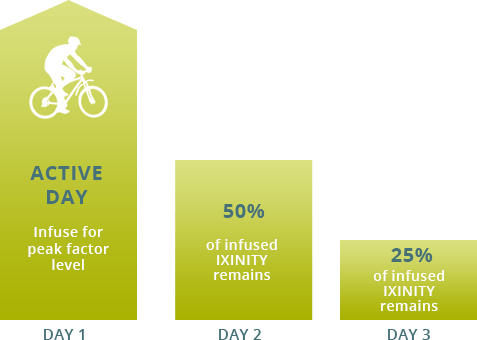 Individual response may vary; therefore, number of days between dosing may vary.
In a clinical trial, IXINITY was used in major surgeries1:
References: 1. IXINITY [coagulation factor IX (recombinant)] prescribing information. Chicago, IL: Medexus Pharma, Inc.; May 2022. 2. Björkman S. A commentary on the differences in pharmacokinetics between recombinant and plasma-derived factor IX and their implications for dosing. Haemophilia. 2011;17:179-184. 3. Roth DA, Kessler CM, Pasi KJ, Rup B, Courter SG, Tubridy KL. Human recombinant factor IX: safety and efficacy studies in hemophilia B patients previously treated with plasma-derived factor IX concentrates. Blood. 2001;98(13):3600-3606. 4. Tracy TS. Pharmacokinetics. In: Craig CF, Stitzel RE. Modern Pharmacology With Clinical Applications. 6th ed. Hagerstown, MD: Lippincott Williams & Wilkins; 2004.