Studied for safety. No factor IX inhibitors developed.1
IXINITY was studied in a clinical trial involving patients previously treated with another recombinant therapy.1*
77

PATIENTS
7-64 YEARS OF AGE1†
All were previously treated patients with at least 150 exposure days to another factor IX before switching to IXINITY®.1
138

DAYS
AVERAGE NUMBER OF EXPOSURE DAYS TO IXINITY1
Exposure day: A day during which a patient receives a factor IX infusion.
All had moderately severe or severe hemophilia B (factor IX level ≤2 IU/dL).1
Patients were divided into 2 regimens: routine (90%) and on-demand (10%).1
In an IXINITY clinical trial,* previously treated patients experienced: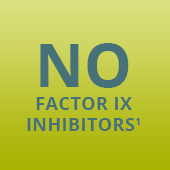 Your body may form inhibitors to factor IX.
Patients should be monitored for the development of factor IX inhibitors if1:

Expected factor IX activity plasma levels are not attained.
Bleeding is not controlled with the recommended dose of IXINITY.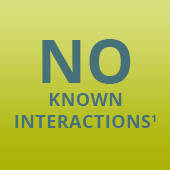 No drug-drug, drug-food, or other interactions with factor IX products are known.1
The most common side effect in people using IXINITY in clinical trials was headache—observed in 2.6% of patients.1
8% (6/77) of patients reported a total of 14 adverse reactions. These were reported as probably or possibly drug-related.1
IXINITY: Manufacturing process designed for product purity and safety.
Third-generation factor IX treatment
No additional human or animal proteins are added during manufacturing.
Employs a validated 3-step viral inactivation & removal process:

Solvent/detergent treatment, chromatographic step, nanofiltration

Utilizes a validated step to reduce the presence of CHO proteins
Third-generation product: Defined by the National Hemophilia Foundation Medical and Scientific Advisory Council as recombinant factor IX (rFIX) produced in Chinese hamster ovary cells; no human or animal plasma-derived proteins are used in the manufacturing process.
You can check out all the details about IXINITY safety and efficacy by reading the full IXINITY Prescribing Information.
The efficacy (n=68) and safety (n=77) of IXINITY have been evaluated in a prospective, open-label, uncontrolled, multicenter trial in which previously treated patients (PTPs) between 7 and 64 years of age received IXINITY in either a routine or on-demand regimen.1
IXINITY is FDA approved for adults and children at least 12 years of age.1
Reference: 1. IXINITY [coagulation factor IX (recombinant)] prescribing information. Chicago, IL: Medexus Pharma, Inc.; November 2022.